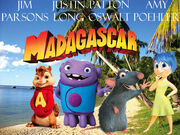 Madagascar
 is a 2019 American 
science fiction
musical
action
adventure film
 directed by 
J. J. Abrams
 and 
Justin Lin
 and written by 
J. J. Abrams
 and 
Simon Pegg
. It is based on the 2005 film of the same name written by 
Mark Burton
, 
Billy Frolick
, 
Eric Darnell
 and 
Tom McGrath
 and the musical "Madagascar Jr.". It stars 
Hugh Jackman
, 
Eddie Redmayne
, 
Russell Crowe
, 
Anne Hathaway
, 
Patrick Stewart
, Pegg and 
Zachary Quinto
.
Alex - voiced by Eddie Redmayne, played by Oh (Home)
Marty - voiced by Hugh Jackman, played by Alvin (Alvin and the Chipmunks)
Melman - voiced by Russell Crowe, played by Remy (Ratatouille)
Gloria - voiced by Anne Hathaway, played by Joy (Inside Out)
King Julien - voiced by Patrick Stewart, played by Bugs Bunny (Looney Tunes)
Maurice - voiced by Simon Pegg, played by Bunnymund (Rise of the Guardians)
Mort - voiced by Zachary Quinto, played by E.B. (Hop)
Skipper - voiced by Karl Urban, played by Red (The Angry Birds Movie)
Kowalski - voiced by John Cho, played by Bomb (The Angry Birds Movie)
Private - voiced by Sacha Baron Cohen, played by Chuck (The Angry Birds Movie)
Rico - voiced by Ben Cross, played by Hal (The Angry Birds Movie)
Lemurs - played by various rabbits
Mason and Phil - played by Max and Duke (The Secret Life of Pets)
"It's Showtime"
"Wild and Free"
"Best Friends"
"Relax, Be Cool, Chill Out"
"Raspberry Clouds"
"Welcome to Me"
"I Like to Move it, Move it"
"Penguin Sea Shanty"
"Steak"
"Living in Paradise/Who's the Cat"
"Foosa Hungry"
"Best Friends Reprise"
"King of Madagascar"
"Together"
"What the World Needs Now Is Love" (end credits; sung by Missi Hale)
Community content is available under
CC-BY-SA
unless otherwise noted.